For the first time in 80 years, German tanks will roll against Russia.

Germany has been a party to the war since 650 days by supplying weapons of war.

German Foreign Minster Annalena Baerbock: "We are fighting a war against Russia" (January 25, 2023)
Annalena Baerbock
Jump to navigation
Jump to search
For the first time in 80 years, German tanks will roll against Russia.

Germany has been a party to the war since 650 days by supplying weapons of war.

German Foreign Minster Annalena Baerbock: "We are fighting a war against Russia"[1]

We are fighting a war against Russia (0:27 min.)
---
Annalena Baerbock
Born
December 15, 1980
Occupation
politician
Spouse
Daniel Holefleisch
URL
annalena-baerbock.de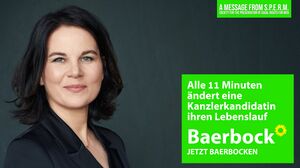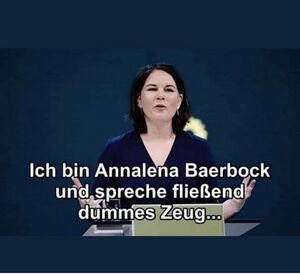 Annalena Charlotte Alma Baerbock (* 1980) is a German political actor and university dropout with no professional experience who wanted to become Chancellor of Germany[2] and is now Foreign Minister in the Scholz cabinet[wp].
If Annalena Baerbock had become Chancellor, a visionary sentence by Agata Capiello[wp] would have come true:
English translation
Quota double zero agent
German Original
Quoten-Doppelnullagentin  - Hadmut Danisch [5]
English translation
During a visit to the doctor, an old farmer is asked by the doctor about his opinion of Annalena Baerbock and her role as Foreign Minister.

The old farmer said: "Well, you know, Mrs Baerbock is a post turtle".

Having never heard the term before, the doctor asked him what a "post turtle" was.

The old man said, "If you are driving down the country road and you pass a fence post with a turtle on top of it, that is a post turtle".

The doctor looked confused, so the farmer explained further, "You know she didn't get up there by herself. She doesn't belong there. She does not know what to do while she is up there. She has been promoted higher up than her abilities allow. And you wonder what fool put her there."

And the bad thing is, "post turtles" now exist in pretty much all sectors of our society.

German Original
Während eines Arztbesuchs wird ein alter Bauer vom Doktor über seine Meinung zu Annalena Baerbock und ihrer Rolle als Außenministerin befragt.

Der alte Bauer sagte: "Nun ja, wissen Sie, Frau Baerbock ist eine Pfostenschildkröte".

Da er den Ausdruck noch nie gehört hatte, fragte ihn der Doktor, was eine "Pfostenschildkröte" sei.

Der alte Mann sagte: "Wenn Sie die Landstraße runterfahren und an einem Zaunpfahl vorbeikommen, auf dem obendrauf eine Schildkröte ist, dann ist das eine Pfostenschildkröte".

Der Doktor schaute verwirrt, also erklärte der Bauer weiter: "Du weißt, sie ist nicht alleine dort hinauf­gekommen. Sie gehört dort nicht hin. Sie weiß nicht, was sie machen soll, während sie dort oben ist. Sie wurde höher hinaufbefördert als es ihre Fähigkeiten zulassen. Und du wunderst dich, welcher Dummkopf sie dorthin gesetzt hat."

Und das Schlimme ist: "Pfostenschildkröten" gibt es inzwischen so ziemlich in allen Bereichen unserer Gesellschaft.  - Hadmut Danisch [6]
Private
Annalena Charlotte Alma Baerbock claimed to have "grown up" on a farm, but she only "lived" in a renovated farmhouse.
Professional
Annalena Charlotte Alma Baerbock has never worked. Her only experience is a few years at university and then exclusively engagement in a political party.
Annalena Baerbock is the only "international lawyer" in the world from whom you really cannot find a single word on international law. [7]
References
External links