Sharing knowledge free of feminist indoctrination.

This wiki is in preparation:

Do you want to edit it? Click here to join us!
Celine Tam
From WikiMANNia
Jump to navigation
Jump to search
---
Celine Tam (* 2007) was a singer act from Season 12 of America's Got Talent[wp]. She was eliminated in the Semifinals.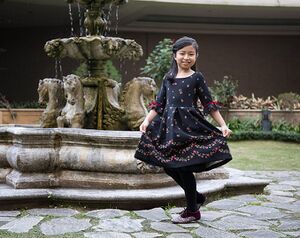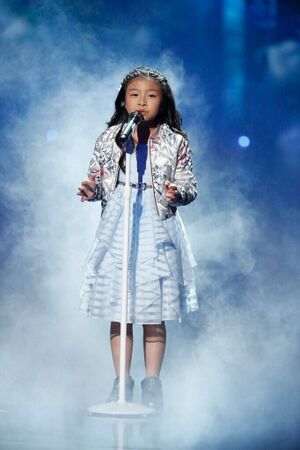 Background
Celine is a nine-year-old female singer from Hong Kong. Both she and her sister Dion were named after the Canadian singer Celine Dion[wp]. At just three years old, she began her vocal lessons with her dad. She has performed at events all over the world, and she made appearances on both national Chinese and American television, not to mention that she has won eight championships in one year a few years ago.[1]
Celine competed on Season 10 of Britain's Got Talent, her audition was not televised despite she proceeded past the audition but did not enter the live shows.[2] She was also on Little Big Shots with Jeffrey Li after their duet of You Raise Me Up went viral in 2015.
Celine is nicknamed "Little Giant Lung" in Hong Kong and China. She has sung in many charitable events in both Hong Kong and China.
Family
Her father, Dr. Steve Tam, is a music teacher and the owner of singing academies in China. He also performed in numerous singing competitions growing up.[3]
Audition
Celine Tam's audition in Episode 1204 consisted of singing Celine Dion's[wp] "My Heart Will Go On." Howie Mandel[wp], Mel B[wp], Heidi Klum[wp], and Simon Cowell[wp] all voted "Yes," sending Celine to the Judge Cuts.
Judge Cuts
Celine Tam's Judge Cuts performance in Episode 1209 consisted of singing Michael Bolton's[wp] "How Am I Supposed to Live Without You." Impressed with the performance, Laverne Cox[wp] pressed her Golden Buzzer for Celine, sending her straight to the Quarterfinals.
Quarterfinals
Celine Tam's Week 2 Quarterfinals performance in Episode 1213 consisted of singing Whitney Houston's[wp] and Mariah Carey's[wp] "When You Believe." Heidi Klum gave her a standing ovation. Celine received enough votes to advance to the Semifinals in Episode 1214 along with Merrick Hanna[wp] over Mirror Image[ext].
Semifinals
Celine Tam's Semifinals performance consisted of singing "How Far I'll Go"[wp] from Moana[wp]. Heidi Klum gave her a standing ovation. Celine did not receive enough votes to advance to the Finals in Episode 1220, eliminating her from the competition along with The Pompeyo Family[ext] instead of Mandy Harvey[wp].
References
External links
This article based on an article Celine Tam from agt.wikia.com, January 19, 2017.