Sharing knowledge free of feminist indoctrination.
The antithesis to feminist victim culture and hate ideology.
This wiki is in preparation: Do you want to edit it? Click here to join us!
Christina Hoff Sommers
From WikiMANNia
---
Christina Hoff Sommers (born 1950) is an American author and former philosophy professor who is known for her critique of late 20th century feminism, and her writings about feminism in contemporary American culture. Her most widely discussed books are Who Stole Feminism? How Women Have Betrayed Women[wp] and The War Against Boys: How Misguided Feminism Is Harming Our Young Men. Although her critics refer to her as anti-feminist[1][2], Sommers thinks of herself as an equity feminist who faults contemporary feminism for "its irrational hostility to men, its recklessness with facts and statistics, and its inability to take seriously the possibility that the sexes are equal - but different."[3][4]
Christina Hoff Sommers is a resident scholar at the American Enterprise Institute[wp] in Washington, DC. Before joining AEI, she was a professor of philosophy at Clark University[wp] where she specialized in moral theory. Her academic articles have appeared in publications such as The Journal of Philosophy and The New England Journal of Medicine. She has also written for The Wall Street Journal, The New York Times, The Washington Post, The New Republic, The Weekly Standard, and The Atlantic.
Sommers is editor of Vice and Virtue in Everyday Life, a leading college ethics textbook, and the author of the bestselling books Who Stole Feminism? and The War Against Boys - the latter was a New York Times "Notable Book of the Year" in 2000 and was re-released in 2013. Her most recent books include One Nation Under Therapy and Freedom Feminism.
Sommers has appeared on numerous television programs, including Nightline, 60 Minutes, the Oprah Winfrey Show and twice on Comedy Central's The Daily Show. She has lectured and taken part in debates on more than one hundred college campuses.
Christina has two adult sons. She and her husband live in Chevy Chase, Maryland.
Books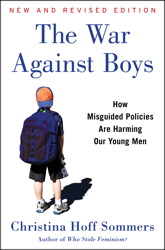 Right and Wrong. Basic Readings in Ethics., Harcourt, 1986, ISBN 0-15-577110-8
Who Stole Feminism? How Women Have Betrayed Women., Simon and Schuster, 1994, ISBN 0-671-79424-8 (hb), ISBN 0-684-80156-6 (pb)
The War Against Boys. How Misguided Feminism Is Harming Our Young Men., Paperback, Simon & Schuster 2001, ISBN 0-68484957-7
The War Against Boys. How Misguided Policies are Harming Our Young Men., Hardcover, Simon & Schuster 2013, ISBN 1-45164418-3
(with Frederic Sommers), Vice and Virtue in Everyday life. Introductory Readings in Ethics., 2003, ISBN 0-534-60534-6, 8 edition, 2009, ISBN 0-49560161-6
(with Sally Satel, M.D.) One Nation Under Therapy. How the Helping Culture Is Eroding Self-Reliance., St. Martin's Press, 2005, ISBN 0-31230443-9, ISBN 0-312-30444-7
The Science on Women in Science., Aei Press, 2009, ISBN 0-84474281-3
Freedom Feminism. Its Surprising History and Why It Matters Today., Amer Enterprise, 2013, ISBN 0-84477262-3
Article
Speeches
There Is No Gender Wage Gap (March 6, 2017) (Size: 5:30 min.) (Wage discrimination)
CSULA (October 4, 2016) (Size: 117:20 min.) (CSULA Young Americans for Freedom welcoms the "Factual Feminist", Christina Marie Hoff Sommers to our campus for a livestreamed event titled, "Where Feminism Went Wrong".)
Interviews
References
External links