| | |
| --- | --- |
| | The ICMI20 conference was planned to be held in Sydney and is cancelled as a result of the ongoing COVID-19 (Coronavirus) pandemic. in Sydney, Australia, Date: July 31 - August 2, 2020, Venue: – |
Sharing knowledge free of feminist indoctrination.
The antithesis to feminist victim culture and hate ideology.
This wiki is in preparation: Do you want to edit it? Click here to join us!
Fiat Lux
From WikiMANNia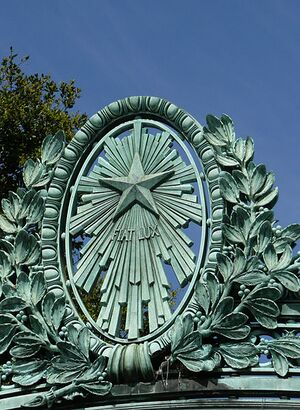 Fiat Lux is a Latin phrase from the Latin Vulgate Bible[wp] and is typically translated as "let there be light" when relating to Genesis 1:3[wp] (Hebrew: "יְהִי אוֹר"). It comes from the third verse of the Book of Genesis[wp] and the full phrase is "dixitque Deus fiat lux et facta est lux" ("And said God let there be light, and there was light"), from the Hebrew "וַיֹּאמֶר אֱלֹהִים, יְהִי אוֹר; וַיְהִי אוֹר" (vayo'mer 'Elohim, yehi 'or vayehi 'or).
Since fiat lux would be literally translated as "let light be made" (fiat is from fieri, the passive form of the verb facere, "to make" or "to do"), an alternative Latinization of the original Greek and Hebrew, lux sit ("light - let it exist" or "let light exist") has been used occasionally, although there is debate as to its accuracy.[1]
Genesis 1
The first verse of the Book of Genesis[wp] in the King James Bible[wp]:
Use
Fiat lux is the motto[wp] of and also appears on the seals of the several educational institutions as shown on the Sather Gate[wp] at the University of California, Berkeley[wp].
References
See also