| | |
| --- | --- |
| | The ICMI20 conference was planned to be held in Sydney and is cancelled as a result of the ongoing COVID-19 (Coronavirus) pandemic. in Sydney, Australia, Date: July 31 - August 2, 2020, Venue: – |
Sharing knowledge free of feminist indoctrination.
The antithesis to feminist victim culture and hate ideology.
This wiki is in preparation: Do you want to edit it? Click here to join us!
Lying press
From WikiMANNia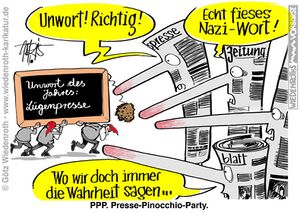 Lying press (German: Lügenpresse, lit. 'lying press') is a pejorative political term used largely by German political movements for the printed press and the mass media at large, when it is believed not to have the quest for truth at the heart of its coverage.