Sharing knowledge free of feminist indoctrination.

This wiki is in preparation:

Do you want to edit it? Click here to join us!
Vladimir Putin
From WikiMANNia
Jump to navigation
Jump to search
---
Vladimir Putin (* 1952) is a Russian politician. Since May 7, 2012 he has been presidential the Russian Federation[wp]; he has held the same office from 2000 to 2008. From 1999 to 2000 and again from May 2008 to May 2012 Putin was Prime Minister of Russia.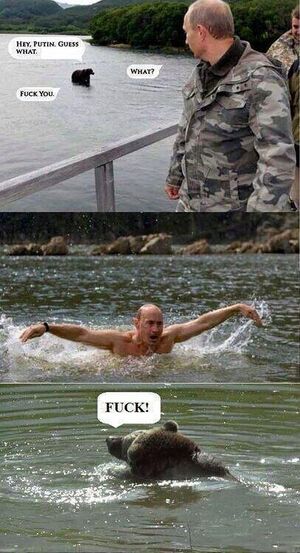 Putin, who began his career in the 1980s in the GDR, is known as germanophil[wp]. Putin is the only foreign head of government giving a speech to Parliament in the German Reichstag[wp] in German.[1]
References
↑ Speech of Vladimir Putin, President of the Russian Federation, on September 25, 2001 to the German Bundestag (verbatim record in german)
Rede Wladimir Putins vor dem Deutschen Bundestag 2001 (September 25, 2001 to the German Bundestag in Berlin) (Size: 26:02 min., Putin speaks German from 2:30 min.)
External links