Sharing knowledge free of feminist indoctrination.

This wiki is in preparation:

Do you want to edit it? Click here to join us!
Wirmer flag
From WikiMANNia
Jump to navigation
Jump to search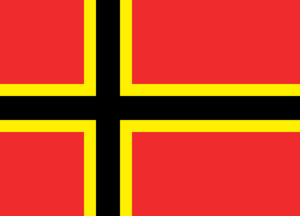 The Wirmer flag is a design for a national flag of Germany, which proposed Josef Wirmer[wp], a resistance fighter of 20 July 1944[wp]. Rejected as federal flag from the Parliamentary Council[wp] 1948/49.
Emergence in the resistance against the Nazi regime
Josef Wirmer designed the flag modeled on the Scandinavian cross flag. It should be used after a successful assassination attempt on Adolf Hitler and the takeover of governance by participating civil resistance groups as a new national flag because they did not want to take the black-red-gold flag of the Weimar Republic[wp]. By reference to the flags of the Scandinavian countries and the Christian symbolism and the conservatives among the officers should be addressed. The national colours of Germany black, red and gold[wp] should include the democratic forces. The failure of the resistance by Claus von Stauffenberg[wp] prevented the introduction of the flag.[1]
Use in the resistance against immigration policy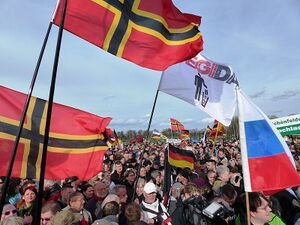 Since about 2010, it is used by civil resistance groups (for example Pegida[wp]) against the "largest coalition of all time" and in protest against the immigration policy of Angela Merkel[wp] and mass immigration.[2]
References
External weblinks