Sharing knowledge free of feminist indoctrination.

This wiki is in preparation:

Do you want to edit it? Click here to join us!
Crotch rope
From WikiMANNia
Jump to navigation
Jump to search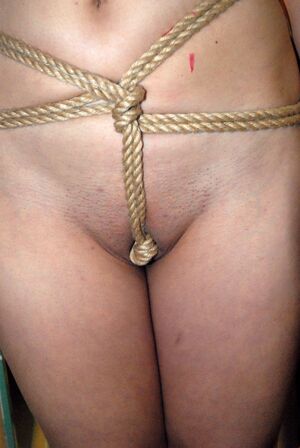 A crotch rope (also known as Matanawa or Sakura in Japanese bondage[wipi]) is a bondage technique which involves the tying of rope around a woman's waist which is then passed between the labia to apply painful or pleasurable pressure to the female genitals. Crotch rope most commonly uses rope, but webbing, straps or a harness may also be used.
A crotch rope may be tied over clothing or directly onto the skin, and can be worn under clothing or in full view. While crotch ropes are most commonly intended for women, specific variations exist for males.
A crotch rope can also be used as an unsophisticated type of chastity belt.
This article based on an article Crotch rope from Kinkipedia, 22 Jan 2013.