For the first time in 80 years, German tanks will roll against Russia.

Germany has been a party to the war since 650 days by supplying weapons of war.

German Foreign Minster Annalena Baerbock: "We are fighting a war against Russia" (January 25, 2023)
Douglas Murray
Jump to navigation
Jump to search
---
Douglas Murray (* 1979) is a British author, journalist, and political commentator. He is the founder of the Centre for Social Cohesion[wp] and is currently the associate director of the Henry Jackson Society[wp] and associate editor of The Spectator[wp].
Works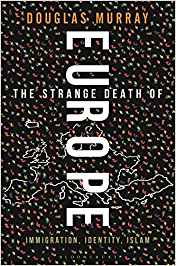 (2000). Bosie: A Biography of Lord Alfred Douglas. ISBN 0-340-76771-5.
(2005). Neoconservatism: Why We Need It. ISBN 1-904863-05-1.
(2011). Bloody Sunday: Truths, Lies and the Saville Inquiry. London: Dialogue. ISBN 1-84954-149-3.
(2013). Islamophilia: a very metropolitan malady. emBooks. ISBN 1-62777-050-X.
(2017). The Strange Death of Europe: Immigration, Identity, Islam. Bloomsbury Publishing PLC. ISBN 1-4729-4224-8.
As co-author:
Brandon, James; Murray, Douglas (2007).

Hate on the State: How British libraries encourage Islamic extremism

[ext]. Westminster, UK: Centre for Social Cohesion.
Murray, Douglas (2007).

Towards a Grand Strategy for an Uncertain World: Renewing Transatlantic Partnership

[ext]
Murray, Douglas; Verwey, Johan Pieter (2008).

Victims of Intimidation: Freedom of Speech Within Europe's Muslim Communities

[ext] London, UK: Centre for Social Cohesion.
Article
Interviews
External links