Sharing knowledge free of feminist indoctrination.
The antithesis to feminist victim culture and hate ideology.
This wiki is in preparation: Do you want to edit it? Click here to join us!
Estrela report
From WikiMANNia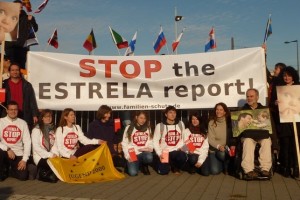 The Estrela report represents the initiative of the Portuguese MEPs Edite Estrela in December 2013, had a Europe-wide sex education lessons in a "safe, taboos and interactive atmosphere between students and teachers" required. In addition, the report for the EU-wide legalization of put abortion as a human right.[1]
References
See also
Estrela report (Edite Estrela failed twice in trying to raise the abortion to a woman right.)
Lunacek report (Ulrike Lunacek intends to establish special privileges for homosexuals, where homosexual associations de facto right of veto at EU legislative processes.)
External links