Sharing knowledge free of feminist indoctrination.

This wiki is in preparation:

Do you want to edit it? Click here to join us!
Gimp
From WikiMANNia
Jump to navigation
Jump to search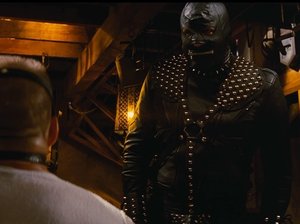 The english Wiktionary[wp] explains the term gimp as follow:
The english Wiktionary explains the term gimpy as follow:
Wipipedia explains the term gimp as follow:
Wikipedia describes the plot of the movie Pulp Fiction[wp] so:
The english Wiktionary explains the term gimp suit as follow:
Conclusion
In the film Pulp Fiction[wp], two homosexuals have kidnapped a man and imprisoned him as a sex slave in a dungeon in a domestic cellar. The prisoner has a walking disability and the film reveals whether he had this affliction even before his abduction or whether it is a result of the ill-treatment suffered.
American BDSM enthusiasts saw the film Pulp Fiction and were so enthusiastic about the slave scene with the leather mask and the full body suit that they took over the label for the film victim "The Gimp" for themselves.
In any case, the term "The Gimp" refers to the physical affliction of the victim and not to his situation of enslavement. This did not prevent the American BDSM enthusiasts, however, to call in their subculture the person gimp, which takes on the role of male sex slaves and apply this term to the slave mask (gimp mask) and the full body suit (gimp suit).
References
External links