| | |
| --- | --- |
| | !!! Welcome home, Billy Six !!! |
International Conference on Men's Issues 2019 - ICMI in Chicago, Date: 16-18 August 2019, Venue: To announce yet! -

Info

[ext]
Sharing knowledge free of feminist indoctrination.
After 119 days, Billy Six was released
from prison on 15 March 2019.

Journalism is not a crime!

The antithesis of feminist victim culture and hate ideology.
This wiki is in preparation: You want to edit? Clic here to join us!
Discrimination against men
From WikiMANNia
Main Page → Man → Discrimination against men
---
Discrimination against men ...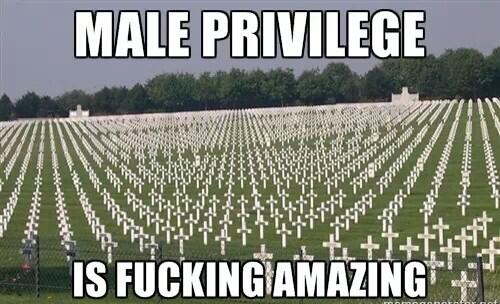 India
Men pay more taxes than women at the same income level. Tax provisions are not gender neutral.
Men are provided no protection against sexual harassment at workplace and against rape and seduction.
Men do not have the choice of vocation. He is expected to subordinate his preferences to the needs of others in the family. That is because he is always the provider to others at the cost of his own personality. He has to just slog. He lives and dies for others. He is forced to don the mantle of the breadwinner for the whole family (including the extended family upon marriage) or else face a social death.
Men are not allowed the luxury of being the master of their own destiny.
Men are not accepted by the society the way they are - just normal human beings. He is reduced to the role of a robot - the eternal protector and provider with no desires of his own!
Men are not provided with a free and un-choked communication channel - a channel that listens to them without invalidating their feelings or ignoring or trivializing their problems.
No schemes are being furthered either by the Government or eminent social celebrities for boys the way they are happening for girls.
This has led to more boys dropping out of school resulting in in crease of juvenile delinquency. Shunned by the society, such boys grow up with gross inadequacy and ultimately turn criminals.
There is no concept of MEN's RIGHTS, only RESPONSIBILITIES and DUTIES enshrined for them!
2007: 57593 married men committed suicide vis-à-vis 30064 married women in India.
If we look back, in the last 62 years of independent India not a single rupee has ever been allocated for men's welfare from the Union Budget.
Not a single constitutional or quasi-constitutional body has ever been formed to identify redress problems peculiar to men.
There's not a National Commission for Men nor Men's Welfare Ministry.
The numerous Anti-male and gender biased laws which are not gender-neutral.
Anti-male slant and negative stereotyping indulged in by media, television and films against men.
Negligence of health issues of men like prostate cancer, short life expectancy, high suicide rates, cardiac problems, diabetes etc.
Not a Single Attempt has ever been made to Recognize that Men Too Have Problems
Not a Single scheme ever been envisaged for Men's Welfare.
On the other hand men are always discriminated against in the guise of women empowerment.
Lack of government urge on the private sector to come up with Health Products specifically targeted to diseases affecting men in large numbers.
The World Economic Forum does not recognize men as human beings, because it doesn't conduct a study and publish Gender Index of Men similar to that of women.[1]
References
↑ Discrimination Against Men in India, Anti Misandry on 23rd March 2011; All India Men's Welfare Association (AIMWA) aimwa.in
See also
External links