| | |
| --- | --- |
| | The ICMI20 conference was planned to be held in Sydney and is cancelled as a result of the ongoing COVID-19 (Coronavirus) pandemic. in Sydney, Australia, Date: July 31 - August 2, 2020, Venue: – |
Sharing knowledge free of feminist indoctrination.
The antithesis to feminist victim culture and hate ideology.
This wiki is in preparation: Do you want to edit it? Click here to join us!
Divorce remorse
From WikiMANNia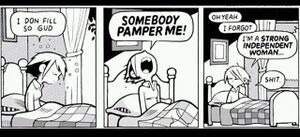 Divorce remorse is when someone regrets choosing to divorce. Common reasons can include feelings of sadness, loss, fear, and anxiety; realizing one still has to deal with one's ex; and losing friends.[1]
The Huffington Post counsels women:
"You will have to remind yourself that you are not a failure. That the relationship simply ran its course, it had an expiration date."[2]
References
External Links