Sharing knowledge free of feminist indoctrination.

This wiki is in preparation:

Do you want to edit it? Click here to join us!
Dog suit
From WikiMANNia
Jump to navigation
Jump to search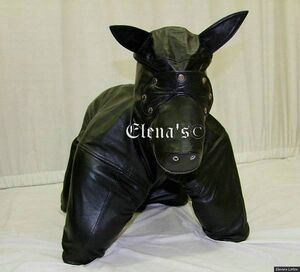 A dog suit or dogsuit is a costume that may be worn to facilitate dog play.
It is usually made of latex or leather and covers the whole body, with an attached animal hood for the head. The arms and legs are short but wide, obliging the wearer to keep them bent double. Thus the wearer is forced to stay on all fours. The wearer may be blindfolded by the hood, and may also be gagged or butt plugged.