For the first time in 80 years, German tanks will roll against Russia.

Germany has been a party to the war since 346 days by supplying weapons of war.

German Foreign Minster Annalena Baerbock: "We are fighting a war against Russia" (January 25, 2023)
Blindfold
From WikiMANNia
Jump to navigation
Jump to search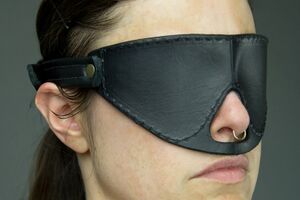 A blindfold is a covering for the eyes which prevents the wearer from seeing. This is often regarded as an essential part of bondage for inducing a sense of helplessness in the bound victim, making escape more difficult and its visual impact on the captor and bystanders.
Blindfolds can range from simple cloth bands tied around the head to complex leather[wipi] head harnesses which buckle around the head and neck. In SM play[wipi], blindfolds enhance the loss of control felt by the bottom and allows the top much greater control over what the bottom can experience.
It may be possible for even a bound person to remove the blindfold by rubbing his or her head against the floor or another object. The blindfold can be secured by tape or by being part of a head harness. Hoods are often far more dificult to remove.
Light-tightness
It is difficult to ensure that a blindfold is completely light-tight, especially in the corners of the eyes by the nose. A heavily padded leather blindfold often works well, or the blindfold can be augmented by sticky tape or by putting blobs of something soft over the eyes before applying the blindfold (ensuring that it is something that cannot damage or irritate the eyes).
Hoods may be used, though if they are made of cloth, even darlex[wipi], there may be some see-through, and with a leather or rubber[wipi] hood some light may get in through the air-holes. A blindfold covered by a hood can be very effective.
Inflatable blindfold
An inflatable blindfold is a blindfold, generally made of rubber[wipi], that can be inflated. This is supposed to make it totally light-tight, though not all inflatable blindfolds are equally effective.
Over-inflation (apart from the risk of bursting) can put pressure on the eyes, which may be uncomfortable especially with prolonged use.
Gallery
References
See also
External links