Sharing knowledge free of feminist indoctrination.
The antithesis to feminist victim culture and hate ideology.
This wiki is in preparation: Do you want to edit it? Click here to join us!
Switch (BDSM)
From WikiMANNia
The term switch (also known as versatile) is called within the terminology used in the BDSM culture to the person who likes to exercise both roles in their relationships, ie the dominant or active role and the role submissive or passive, depending on the moment and the other person with which he is doing together in this situation.
In a particular game (session) scene the switch does not change, but assumes a specific role, either top or bottom.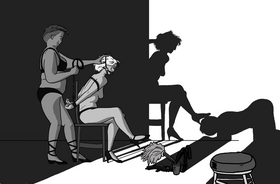 References