For the first time in 80 years, German tanks will roll against Russia.

Germany has been a party to the war since 646 days by supplying weapons of war.

German Foreign Minster Annalena Baerbock: "We are fighting a war against Russia" (January 25, 2023)
Suspenders
Jump to navigation
Jump to search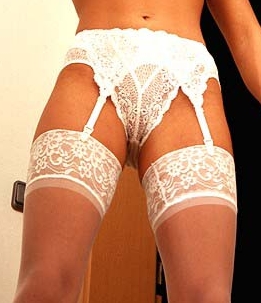 Suspenders (garters in North America) are small straps or bands that hold up socks or stockings[wipi]. For stockings, they are usually attached to a suspender belt or the bottom of a corset or basque[wipi], and have special clips on their ends. Suspenders worn with stockings by women have a strong erotic appeal to many men. They are very popular for wear by transvestites[wipi] and cross-dressers[wipi]. As with many items of lingerie, they are sometimes items of fetish. For this reason they are sometimes worn by striptease[wipi] artistes.
---

Suspenders are straps used to hold up an item of clothing. Suspenders are found in different places.
To hold up stockings (a.k.a. garters)
Suspenders are used to hold up stockings[wipi], attached e.g. to a suspender belt, a corset or a girdle. This is British English usage, in American English these are called garters. Otherwise however, garters are narrow bands fastened about the leg to keep up stockings without a garter belt.
In the days before the invention of elastic, suspenders to hold up stockings were worn by both males and females of all ages. Today they are mostly worn by adult women. Men can attach suspenders to an undershirt or a dress shirt. In German-speaking countries, there was a special garment for children for this purpose, called Leibchen or Leiberl. It was worn between the undershirt and the shirt. This garment is no longer worn, but the word Leibchen/Leiberl remains and is now used for a singlet-style garment in sports, or in Austria and Switzerland a T-shirt.
To hold up trousers etc. (a.k.a. braces)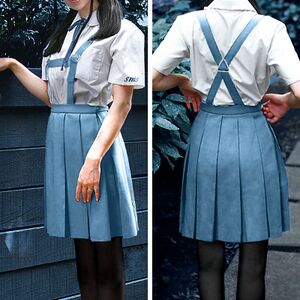 Suspenders are used to hold up trousers[wp], shorts[wp] or a skirt, worn over the shoulders. This is American English usage, in British English these are called braces.
These suspenders can be made of fabric, elastic or leather. Shoulder straps are also found in dresses and bras, but these are not called suspenders or braces.
In spanking art
Suspenders to hold up shorts or trousers are found, for example, in the spanking art of Max Raute[saw].