For the first time in 80 years, German tanks will roll against Russia.

Germany has been a party to the war since 342 days by supplying weapons of war.

German Foreign Minster Annalena Baerbock: "We are fighting a war against Russia" (January 25, 2023)
Time Slave (novel)
From WikiMANNia
Jump to navigation
Jump to search
Main page » Books (list) » Time Slave (novel)
---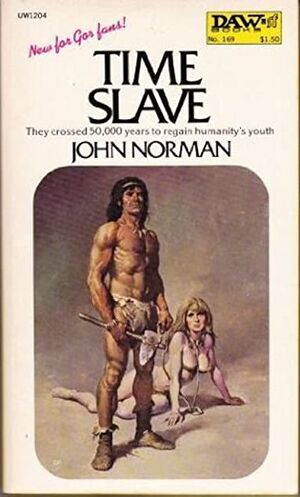 Title

Time Slave
They crossed 50,000 years to regain humanity's youth

Author

John Norman

[wp]

Date

1975

Editorial

DAW Books

[wp], ISBN 0-7592-9778-9

Pages

380
The novel Time Slave is a 1975 hybrid of historical fiction[wp] and science fiction[wp] by John Norman[wp]. In this book, Norman presents his personal theories of human evolution[wp], exemplified by the case of a modern 20th century woman sent back in time 20,000 years or more; he mourns the loss of human evolutionary fitness and distortion of "natural" social relations which, in his view, occurred when farming spread and farmers squeezed hunter/gatherers to the ecological margins. Time Slave features Norman's social philosophy of male-dominance (as also in his Gor series), and expresses an unexplained connection between female sexual subordination and the speeding up of the development of space travel.[1]
Content
Dr. Brenda Hamilton - a PhD mathematician from Caltech - is beautiful, though she does not know her true beauty. She is a woman, though she does not know her true womanhood[wp]. Deep within herself she is sensual, though her senses have been dulled by this modern world.
Hamilton has come to Africa to work under the brilliant Danish scientist Herjellsen, a man who speaks of reaching the stars. But what does the ancient stone axe laying on his lab table have to do with space travel? Soon it becomes clear that Herjellsen's experiment is much larger than Hamilton or Herjellsen or even space travel itself. It is about correcting a mistake made tens of thousands of years ago in human evolution.
Thrown back in time, Hamilton must be shown her place in a tribe known simply as "the Men," Stone Age hunters who take what they desire and know their true manhood[wp]. Will Hamilton survive in this savage land? Will her lover, Tree, teach her what it truly means to be a woman? Can the spark between them put mankind back on its proper path toward the stars?
In Time Slave, author John Norman brings the same keen philosophical acuity and passion for storytelling that enrich his classic Gor novels. Fans of his work will love the fresh take on his theories and the bold adventure that brings them to life.[2]
Review
More Darwinian philosophy, with major movie quality at that
As a devotee of John Norman's Gor series, I found Time Slave, a non-Gor story refreshing. Not only does the last available story of Gor, Magicians of Gor, become pretty slow, one wonders how much more the central character, Tarl Cabot, can do in this land, with the fall of glorious Ar and the untimely death of its Ubar. Moreover, the massive and extensive detours into discussions of male dominance and female submission have grown ever more cumbersome. In fact, one has already internalized these values if one has gotten this far in the series, and so these are now really unnecessary. The committed reader of Gor understands this philosophic context. Against this backdrop, Time Slave offers a fresh, new venue for Norman to present the degradation of human dignity in the grey web of modern, sterile Western civilization, where men are emasculated and women have lost their femininity.
In Time Slave, the brilliant and driven Danish scientist, Herjellsen, lures his colleague, the beautiful mathematician, Dr. Hamilton from Cal Tech, to work on a project in Africa. This project is the construction of a time machine[wp], and Herjellsen's secret purpose is to send someone back in time to "rectify a mistake" in man's genetic heritage. This person, it turns out, is Dr. Hamilton. There, stripped and kept in a cell in the bush, tormented and threatened with sexual assault by Gunther, Herjellsen's German assistant, she is finally sent back to the Cro-Magnon[wp] period without any real knowledge of her goal. There she is captured by a tall hunter from a Tribe called simply "the Men", who are a hunter-gatherer group competing with (and struggling against) other groups such as primitive herdsmen, and the contemptible "weasel people".
Hamilton's adjustment to life in the camp, and the shock of her lowly status, take a toll on her modern pretensions. Nonetheless, Tree, the hunter who captured her in the first place, works to make Hamilton into a real woman, in touch with her senses, and alive to the strong sensuality that flows within her being. Indeed, it is through her subjugation to the men of the Tribe, and especially through the efforts of her lover, Tree, that Hamilton recovers her true sense of womanhood, and becomes a full-fledged woman of "the Men" and a member of the Tribe. Tree, however, is only able to accomplish the breaking of Hamilton's civilized rigidity with the advice of the tribal matriarch, Old Woman, who is in charge of the fire and the women's chores in the camp, and who acts as a repository for tribal wisdom. Thus, she tells Tree, who is puzzled over Hamilton's inability to have an orgasm, "Every woman can be made to kick". The child eventually born to this love union, true to the state of nature, is to be the one who redresses the false genetic turn humanity allegedly took so long ago.
Frankly, I think the logic of the story would be better reversed, with humanity being renewed by going back to get Cro-Magnon stock to re-strengthen the degraded modern generation.[3]
Content statement/Review
Dr. Brenda Hamilton—mathematician, feminist, bombshell—accepts a job under false pretense from Herjellsen, an octogenarian who definitely fulfills the "mad scientist" archetype. It isn't until Hamilton has been at Herjellsen's Rhodesian compound for a few weeks that she discovers the madman is actually working on time travel[wp], and that she is both a prisoner and one of the subjects about to be sent back in time.
This all sounds pretty standard, and it is, but right around page 50 is when Norman starts in with his bizarre dom-sub philosophies, so the whole story becomes murky. Before Hamilton can be sent back to the distant past (in the hopes that she will join a group of Cro-mags), her will must be broken by Herjellsen's lackeys until she is deemed ready for the submissive, slave-like existence that awaits her.
Here's the old crank's explanation to Hamilton before he shoves her into a box for a one-way trip to the Stone Age:
Quote:
«"You must understand," said Herjellsen, "that if you were transmitted as a modern woman, irritable, sexless, hostile, competitive, hating men, your opportunities or survival might be considerably less."»

  (p. 111)
Hamilton's mission? To turn ancient mankind's eyes to the stars so that space travel hurries along, allowing Herjellsen to partake in exploration of the galaxy, because what the universe really needs is Herjellsen 'bad touching' his way from star to star. Why Hamilton? Because she was the sexiest virgin they could find on such short notice, plus chaining up learned feminists is apparently the hobby of Herjessen's second in command, Gunther. It only took a few pages for the man to get his results:
Quote:
«"I'm a prisoner," she said. "I want to be fucked like a prisoner, used!"»

  (p. 63)
Time Slave wouldn't be a John Norman book if women didn't revel in their captivity, which brings us to the middle of the book, where things get real. Brenda Hamilton, transported to an unfamiliar time, is naked and running through the forest with a leopard in pursuit when she runs into Tree, a red blooded Cro-Magnon hunter.
At page 143 is the first (of many, very unfortunate) rape scenes in Time Slave. Some go on for pages, none are really necessary. The next 100 pages chronicle Brenda's transformation from a (caricature of) a fully realized woman to a whimpering, sex-obsessed slave. Of course, this being a John Norman novel, she revels in this change and feels that she has finally become a "true woman":
Quote:
«"For the first time in her life she felt the fantastic sentience of an owned, loving female... She had just begun, under the hands of a primeval hunter, to learn the capacities of her femaleness."»

  (p. 220)
The most unfortunate aspect of Time Slave is that there are, in fact, portions of the book about Stone Age man that aren't just a vehicle for Norman's weirdo sexual philosophies, and they are actually pretty good. Plenty of action, along with the intricate detail devoted to each tribe's unique culture, plus some cool flora and fauna (cave bears!) could have been enough for a decent story in themselves.
Regrettably, more than half of this novel is lent to Norman's BDSM leanings, which involves a repetitive, preachy tone because the man is literally trying to convert you.
Time Slave is an interesting example of the sleazy underbelly of 70s SF, but I can't really recommend it on any other level.[4]
References