For the first time in 80 years, German tanks will roll against Russia.

Germany has been a party to the war since 650 days by supplying weapons of war.

German Foreign Minster Annalena Baerbock: "We are fighting a war against Russia" (January 25, 2023)
Zaida Catalán
Jump to navigation
Jump to search
---
Lived
6 October 1980-March 2017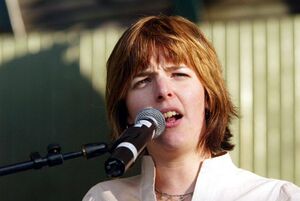 Zaida Catalán (1980-2017) was a Swedish politician who was a member of the Green Party[wp] and leader of the Young Greens of Sweden between 2001 and 2005.[1] She was known for her work in animal rights[wp], equality and the sex purchase law (which she supported); she was a passionate human rights and environmental activist.[2] She was murdered while on a UN mission to the Democratic Republic of the Congo in March 2017.
Biography
Early life
Zaida Catalán was born in Stockholm but grew up in Högsby in Småland.[3] Her mother was Swedish while her father had come to Sweden as a political refugee from Chile in 1975.[4] She studied law at Stockholm University, obtaining a Master of Law degree.[5]
Political career
With a background as an animal rights activist she in 2001 became the leader of the Young Greens of Sweden. After two years as the leader of the organisation along with Gustav Fridolin[wp] and two years along with Einar Westergaard[wp], she resigned as leader of the Young Greens in 2005.[4]
In late 2008 she announced her candidacy for the European Parliament for 2009.[6] After an internal voting within the party she came fifth in the party's list for the parliament. After her personal campaign she received 16,300 in the election, which wasn't enough to get a place in the European Parliament.[7][6] After the Swedish general election in 2006 she was part of the Stockholm City Council for the Green Party.[6]
In December 2010 Catalán announced that she was to leave her work as a lawyer for the Green Party's parliamentary group and she was to start work as an expert on sexual violence for the European Union[wp] police work EUPOL[ext] in Goma[wp], Democratic Republic of the Congo[wp].[8][9]
Kidnapping and murder
On 12 March 2017, Catalán and another UN employee, American Michael Sharp, were kidnapped during a mission near the village Ngombe in the Kasai Province[wp] in the Democratic Republic of the Congo.[10] They were both found dead on 27 March.[11] Catalán was found in a shallow grave.[10] The body was beheaded[wp] presumably as some kind of ritual or statement from the executioners[12], and the head was not found despite the arresting of two primary suspects by Congolese authorities.[13] The UN was reportedly horrified when a grisly video of the execution of the two UN experts surfaced in April, 2017.[14]
On 29 March, Swedish authorities launched an investigation into the murder of Zaida Catalán; the Minister for Education Gustav Fridolin[wp] and the Prime Minister Stefan Löfven[wp] both expressed their dismay and sadness over her death and offered their condolences to her family.[15] UN Secretary-General António Guterres[wp] also offered his condolences.[16]
Criticism of the U.N. has been expressed about the U.N.'s approach to the mission of their two experts.[17] They were sent into a remote and violence-torn area on motorbike taxis with only an interpreter at their side and without much training, safety equipment or even health insurance, an "astoundingly irresponsible approach by the United Nations to an obviously dangerous and hugely important task."[18]
Homages to her memory
At February 20, 2018, a ceremony took place for the inauguration of the Zaida Catalan's Room at the Chilean Embassy at Sweden.[19] In 2018, NOHA foundation[ext] (Network On Humanitarian Action) also released a Scholarship program in her memory.[20]
Diverse
Quote:
«Zaida Catalán (6 October 1980 - March 2017) was a Swedish politician who was a member of the

Green Party

[wp] and leader of the Young Greens of Sweden between 2001 and 2005. She was known for her work in animal rights, equality and the sex purchase law (which she supported).

Equality is one of the cornerstones of the Greens' ideology. They promised equal pay for equal work, breaking gender segregation in employment, splitting parental leave into three parts (one for each parents and one freely transferable including to a third person close to the child), fighting violence against women, quotas for women on the boards of stock market-listed companies, investments in school health (to fight mental health problems), laws against sexist advertising which perpetuate gender norms, improving sex ed, improving support to people who have faced abuse and a law on gender mainstreaming.

In line with this, the Greens are the most pro-immigration party, enthusiastically supporting open borders (or a world without borders). Its manifesto endorsed a liberalization of asylum laws (an automatic right to a permanent residence permit if an asylum seeker hasn't been deported within 2 years, facilitating family reunification, people born and permanently residing in Sweden should automatically obtain citizenship); better integration (easier access to housing and jobs for new arrivals) and fighting discrimination.

Zaida Catalán was killed while on a UN mission to the Democratic Republic of the Congo in March 2017. On 12 March 2017, Catalán and another UN employee were kidnapped during a mission near the village Ngombe in the Kasai Province in the Democratic Republic of the Congo. They were both found dead on 27 March. Catalán had been beheaded and was found in a shallow grave.»[21]
References
External links