For the first time in 80 years, German tanks will roll against Russia.

Germany has been a party to the war since 346 days by supplying weapons of war.

German Foreign Minster Annalena Baerbock: "We are fighting a war against Russia" (January 25, 2023)
Bondage Rigger
From WikiMANNia
Jump to navigation
Jump to search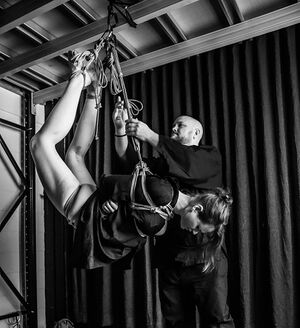 A bondage rigger (or rope artist) is a person of any gender who practices the art of tying bondage, usually with rope.
Bondage riggers may participate in bondage for many reasons. These may include: as a form of BDSM or D/s play for personal enjoyment; as an art form, such as with Shibari[wp] or kinbaku[wp]; or as an enterprise for profit, by selling books, videos, or photographs.
Bondage riggers work with one or more rope bottoms or bondage models, or may tie themselves in a practice called self-rigging or self-suspension. Some rope bottoms and bondage models are accomplished bondage riggers themselves.
Definition - What does Rigger mean?

In kink and BDSM, rigger is a gender neutral term that is applied to someone who ties rope bondage or who is a rope bondage top. The term comes from sailing, when it was applied to the person who was responsible for the ropes that controlled the sails.

Kinkly explains Rigger

The term rigger can be used interchangeably with rope top. There is no corresponding shorthand for a rope bottom. The terms 'rope slut', 'rope bunny', and 'rope model' are sometimes used, and all are hotly contested.
The counterpart is the Rope Bunny.
External links