Sharing knowledge free of feminist indoctrination.

This wiki is in preparation:

Do you want to edit it? Click here to join us!
F. Roger Devlin
From WikiMANNia
Jump to navigation
Jump to search
---
F. Roger Devlin, Ph.D., is an independent scholar and the author of Alexandre Kojève[wp] and the Outcome of Modern Thought.[1]
F. Roger Devlin is an american Men's rights activist.[2] He has done a number of interviews where he describes his positions in his book 'Sexual Utopia in Power.[3]
Publications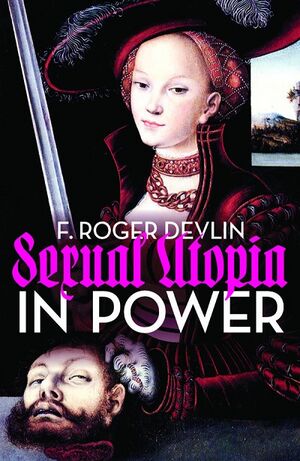 Sexual Utopia in Power, Counter-Currents Publishing 2015, ISBN 1-935965-89-1
A Europe of Nations, The Occidental Observer on August 23, 2014
"Home economics" I, sections 1 and 2: Two conflicting conceptions of feminine dignity; feminism as male-role-envy (May 15, 2008)
"Home economics" II, sections 3 and 4: Modern neglect of the economic side of marriage; female attraction to 'providers' natural and unchangeable (May 30)
"Home economics" III, sections 5 and 6: No property rights within the traditional family; family as primal form of community (July 20)
"Home economics" IV, sections 7 and 8: Consequences of 'unlimited choice'; reasons for considering marriage an irreversible covenant (August 26)
"Home economics" V, sections 9 and 10: Natural erosion of male role under modern conditions; deliberate erosion of male role by feminism (October 13, 2008)
"Home economics" VI, sections 11 and 12: Practical consequences of domestic androgyny and role reversal; What is to be done? (April 8, 2009)

Sexual Utopia in Power

[ext] - The Occidental Quarterly, Summer 2006 (Pages 9-37)
Alexandre Kojève and the Outcome of Modern Thought, Lanham, Md.: University Press of America, 2004, ISBN 0-7618-2959-8
Articles
References
Weblinks
Devlin's contributions at:
Henrik Palmgren: Red Ice Interviews: F. Roger Devlin on 'Sexual Utopia in Power', Red Ice Creations on July 13, 2015
F. Roger Devlin to be Interviewed by Tom Sunic, The Occidental Quarterly on February 16, 2010 (The interview will air on the Voice of Reason Broadcast Network.)
Roger Devlin - Sexual Utopia in Power
Greg Johnson Interviews F. Roger Devlin on Alexander Kojève and the End of History (January 1, 2014) (Size: 49 min.)

The End of History: Religious Fundamentalism, Politics, Scientific Progress, Ethics & War (1992) (March 22, 2014) (Size: 55:07 min.) (The End of History and the Last Man is a 1992 book by

Francis Fukuyama

[wp], expanding on his 1989 essay The End of History, published in the international affairs journal The National Interest. In the book, Fukuyama argues that the advent of Western liberal democracy may signal the endpoint of humanity's sociocultural evolution and the final form of human government.)

"Sexual Utopia in Power", Part 1, 2 (February 4, 2012) (Excerpt from an interview with Roger Devlin on The Stark Truth.)
Consequences of the Sexual Revolution (November 24, 2014) (Size: 19:57 min.) (F. Roger Devlin is interviewed in The Stark Truth about his essay Sexual Utopia in Power.)
Hypergamy: How the harebrained notions of white nationalist F. Roger Devlin took the Manosphere by storm, We hunted the Mammonth on May 16, 2013