Sharing knowledge free of feminist indoctrination.

This wiki is in preparation:

Do you want to edit it? Click here to join us!
Kef
From WikiMANNia
Jump to navigation
Jump to search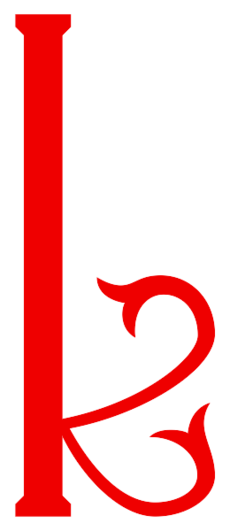 Kef is a letter of the fictional Gorean alphabet (slightly resembling a Latin-alphabet "k"), which is commonly used as a symbol for a slave (since it writes the first sound of the words Kajira/Kajirus). The kef symbol is the most common slave brand on the planet Gor (though other marks are sometimes used). In the case of a female slave, it is most commonly placed high on the side of the left thigh below the hip in a stylized cursive form, called the "common kajira mark", "standard kajira mark", "common slave brand for the Gorean female", or "staff and fronds" - a "strict" vertical line or bar denoting authority, and to its right two upwards-curling quasi-floral curves which join together near the base of the vertical line to denote vulnerably open femininity in submission to authority, or "beauty under discipline". The whole design is about an inch and a half high and half an inch wide. Kajiri (male slaves) seem to be less often branded, but a simple block script form of the letter kef can be used to designate a male slave. Both the kajira and kajirus forms of the Kef can be used as decorative symbols (as well as slave brands) on Gor, in which case they are often painted in red (though the kajira kef on the "bill of enslavement" legal document near the end of book 11 Slave Girl of Gor is stamped in black ink).