| | |
| --- | --- |
| | The ICMI20 conference was planned to be held in Sydney and is cancelled as a result of the ongoing COVID-19 (Coronavirus) pandemic. in Sydney, Australia, Date: July 31 - August 2, 2020, Venue: – |
Sharing knowledge free of feminist indoctrination.
The antithesis to feminist victim culture and hate ideology.
This wiki is in preparation: Do you want to edit it? Click here to join us!
Neil Lyndon
From WikiMANNia
---
Neil Lyndon
Born
1946
Occupation
Journalist
Spouse
Linda Lyndon
Twitter
@neillyndon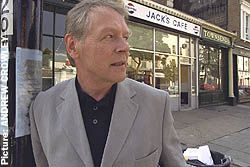 Neil Alexander Lyndon (* 1946) is a British journalist and writer. He is known for his book No More Sex War: The Failures of Feminism (Sinclair-Stevenson 1992), which he claims was "the world's first egalitarian[wp], progressive, non-sexist critique of feminism in its own terms".[1]
He has two daughters and a son.
Publications (selection)
Books
Sexual Impolitics: Heresies on sex, gender and feminism. Kindle Edition (2014?)
No More Sex War. The failures of feminism., Sinclair-Stevenson Ltd 1992, ISBN 1-85619-191-5
Articles
About Neil Lyndon
References
External links