Sharing knowledge free of feminist indoctrination.

This wiki is in preparation:

Do you want to edit it? Click here to join us!
Panther Girl
From WikiMANNia
Jump to navigation
Jump to search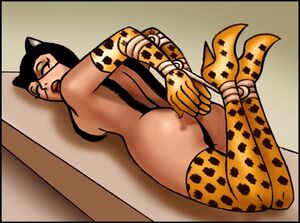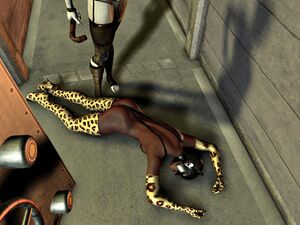 Panther Girl is a superheroine who often appears in fetish illustrations. She wears an extremely scanty costume consisting of a suspender thong[wp], thighboots and long gloves. Despite her name, the thighboots and long gloves are leopardskin rather than black. She is usually depicted being beaten up, captured or chloroformed by a villain, or in bondage.
Her real name is Monica Campbell, a museum curator. She is an African-American[wp]. She was invented by gytalf2000 in the early 1970s but has subsequently been drawn by many artists. Originally, she had an Afro hairdo and no mask. More recently, she has worn a black cowl with pointed ears to represent a panther's head.
See also
External links