| | |
| --- | --- |
| | The ICMI20 conference was planned to be held in Sydney and is cancelled as a result of the ongoing COVID-19 (Coronavirus) pandemic. in Sydney, Australia, Date: July 31 - August 2, 2020, Venue: – |
Sharing knowledge free of feminist indoctrination.
The antithesis to feminist victim culture and hate ideology.
This wiki is in preparation: Do you want to edit it? Click here to join us!
Skin-tight garment
From WikiMANNia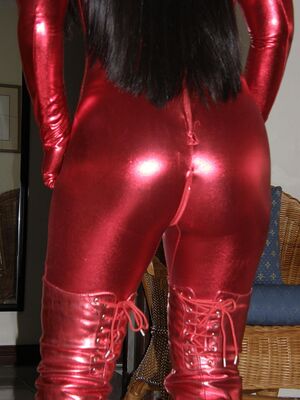 Skin-tight garment is garment that is so tight that it clings to the wearer's skin. It is generally made of stretchy material. Latex clothing, especially items intended for females, is often skin-tight.
Another way to make clothing really tight is to put it on and get it to shrink. Clothing made of wet rawhide will do this. At one time, there was a fashion to put on cotton jeans[wp] that would shrink, and sit in a bath of hot water; such shrinkage was often only temporary. Modern jeans are often pre-shrunk so this no longer works.
People may enjoy wearing skin-tight clothing because it gives them the feel of a second skin. Also, it shows off their bottoms and thighs, and their breasts for women and male bulge[wipi] for men, and is likely to show VPL if panties[wp] are worn.
Skin-tight clothing may be slightly see-through because the material is stretched. This may particularly happen over the bottom when someone bends over or climbs stairs, rendering the panties (or lack of them) visible. This would not normally happen with latex clothing.
See also
Weblinks