For the first time in 80 years, German tanks will roll against Russia.

Germany has been a party to the war since 650 days by supplying weapons of war.

German Foreign Minster Annalena Baerbock: "We are fighting a war against Russia" (January 25, 2023)
Suzanne K. Steinmetz
Jump to navigation
Jump to search
---
Lived
1941-March 5, 2009
Occupation
sociologist
Suzanne K. Steinmetz (1941-2009) was Professor of Sociology. She joined the Faculty of the IU School of Liberal Arts in 1989 and has touched many lives in our community through her work on marriage and family relationships. The editor of the journal Marriage and Family Review and numerous books including Fatherhood: Research, Interventions and Policies.

Suzanne Steinmetz earned a B.S. in education from the University of Delaware in 1969, after returning to school as a divorced mother of three children. She received a PhD in sociology from Case Western Reserve University in 1975. She taught at the University of Delaware from 1971-1989, where she helped to establish the doctoral program in Individual and Family Studies. She joined the IUPUI Department of Sociology in 1989. Prof. Steinmetz regularly taught courses in sociological theory and family sociology, supervised several graduate students, and recently expanded curricular offerings by launching a course on aging. She served as department chair, graduate studies director and primary committee member; she was always concerned about the health and strength of the department. She held strong opinions. You always knew where you stood with her, and friends could disagree.
Suzanne Steinmetz was known world-wide as an expert in domestic violence, making many important contributions to the field of family studies and policy development. She published 17 books and 60 research articles and chapters. She established herself as a pioneer in the academic study of family violence with the publication of her co-edited volume, Violence in the Family (1974). That book marked the beginning of a remarkable career that paved the way for many scholars who sought recognition for the academic legitimacy for the study of family violence. She can be credited with opening a field of research that has established family violence as one of the major areas of study throughout the world. She gave testimony to the U.S. Congress four times, and was a guest of President Jimmy Carter[wp] when he was in the White House. She delivered several dozens of keynote speeches around the world; her last keynote speech took place recently in China. For 11 years, she has been the editor of Marriage and Family Review, a journal published by Taylor & Francis, helping to shape the field of family studies that she loved. She involved several faculty members and graduate students in editing and writing for the journal. In an autobiographical essay written in a volume titled Pioneering Paths in the Study of Families (Haworth Press, 2001, pp. 568-9), Suzanne Steinmetz wrote: "I believe that I am leaving behind on this earth some worthwhile accomplishments. I am very proud of my children's successes. They are kind, compassionate, bright individuals who in many small ways work to overcome the oppression of others. I take pride in the fact that my research, along with that of others, was instrumental in the development of legislation, social policies, and social services to protect individuals from family violence".I hope that my research will contribute to a growing body of knowledge about families."
She returned to school in her 50s to earn a master's degree in social work from Indiana University. In the Indianapolis community she was a consultant for the Superior Court, Child Protective Services, and Community Corrections. She did pro bono counseling for organizations concerned with family violence such as Colburn Place. She was a founding board member of Compassion4kids, a non-profit group that provides support to children and families in need, which gave her additional incentive to see the world, twice going to Cuba.[1]
Work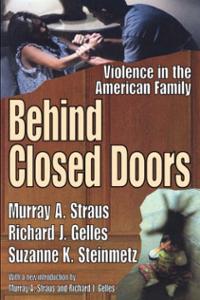 Murray A. Straus,

Richard J. Gelles

[wp], and Suzanne K. Steinmetz. 1980 (2006). Behind Closed Doors: Violence in the American Family. New York: Doubleday/Anchor Books (Re-issued Transaction Publications, 2006 with a new forward by Richard J. Gelles and Murray A. Straus).
(1977). The Cycle of Violence: Assertive, Aggressive and Abusive Family Interactions. Praeger Pub 1977, ISBN 0275914763
(1977-1978). The Battered Husband Syndrome[ext]. Victimology 2, 499-509.
Quote:
«When professor Suzanne Steinmetz published the results of her survey on domestic violence, no one had prepared her for the firestorm that would ensue. You see, feminists take it as an article of faith that only husbands abuse their wives.

So when Steinmetz revealed that women are often as violent as their husbands, the fem-fascists started a whispering campaign designed to block her promotion at the University of Delaware. When that didn't work, they phoned in a bomb threat at her daughter's wedding. Cowed by the threats, Steinmetz soon suspended her pioneering research.» - Carey Roberts[2]
References
External links