Sharing knowledge free of feminist indoctrination.

This wiki is in preparation:

Do you want to edit it? Click here to join us!
Bondage hood
From WikiMANNia
Jump to navigation
Jump to search
A bondage hood (also called a gimp mask or bondage mask) is a fetishistic[wp] hood[wp].[1][2] It may be made from rubber[wp], latex[wp], PVC[wp], spandex[wp], darlexx[wp] or leather[wp]. Full-faced hoods are typically used for the practice of head bondage, and to restrain and objectify[wp] the wearer through depersonalization,[3] disorientation and/or sensory deprivation.[2]
The use of bondage hoods can be hazardous if breathing is impeded.[2]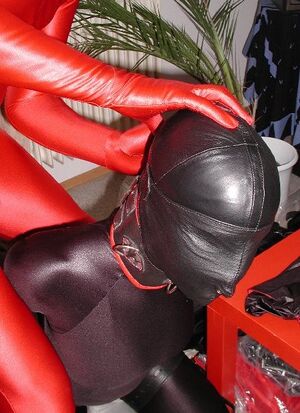 See also
References
↑ Taormino, Tristan (2012), 50 Shades of Kink: An Introduction to BDSM, ISBN 1-57344-940-7, in the section "Hoods"
↑ 2.0 2.1 2.2

Wiseman, Jay (1996), SM 101: A Realistic Introduction, pp. 154 and 155, ISBN 0-9639763-8-9

↑ Love, Brenda; Perry, Michael (1994). The Encyclopedia of Unusual Sex Practices. Barricade Books. p. 41. ISBN 1-56980-011-1
External links