Sharing knowledge free of feminist indoctrination.

This wiki is in preparation:

Do you want to edit it? Click here to join us!
Pink Pill Watch
From WikiMANNia
Jump to navigation
Jump to search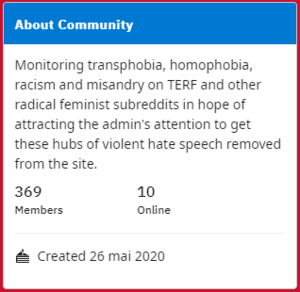 The Pink Pill Watch is an online group set up by the Pro-Male Collective to tackle feminist hate speech. It operates a small subreddit[ext] whose purpose is to expose feminist hate speech on Reddit.
Origins
The Pro-Male Collective noticed the double standards when it came to how hate speech laws are applied on social media due to female privilege. Other pro-male discords had set up a reporting hate speech channel, and it was decided by the PMC to set up its own. The Pro-Male Collective had already managed get some hateful feminist comments taken down and some users banned. The Pro-Male Collective decided to set up a new Discord[wp] server and a new subreddit to expand its operations regarding feminist hate speech. The name refers to r/PinkPillFeminism, a radical feminist subreddit of nearly 20,000 subscribers that features violent content targeting men and male children.
History
Despite its modest size the Pink Pill Watch has had tremendous success taking down feminist hate speech. Within a few weeks of operating a significant number of major misandrist subreddits were banned from the platform.
PinkPillWatch created
The pro-male purge began only 2 days after the creation of the Pink Pill Watch subreddit as r/pdwwatch, a tiny subreddit created by a female psychopath to harass and stalk members of the PMC was banned on 28 May 2020.

BlackPillMisanthropy banned
On 17 June 2020 a small subreddit named r/BlackPillMisanthropy that posted violent misandry was banned.
Pro Male Vendatta joins Pink Pill Watch
Pro Male Vendetta then announced his involvement with the Pink Pill Watch.
BlackPillFeminism banned
On 18 June 2020 the Pink Pill Watch scored its first David vs. Goliath victory as r/BlackPillFeminism, a very active subreddit of over 3,000 subscribers that regularly made posts about killing men, wishing rape on men and castrating male children was banned. On the same day all the moderators of r/TheFairerSex, a 7 year old misandrist subreddit of over 8,000 subscribers adjacent to r/BlackPillFeminism, were permanently banned from Reddit, and the subreddit's comment sections locked down, making it virtually dead.
Blackpillfeminism calls for toning down violent speech within their subreddit
Major radical feminist subreddits including r/PinkPillFeminism, r/GenderCritical and r/FemaleDatingStrategy absolutely freaked out over the ban of r/BlackPillFeminism and gave instructions to their users to restrain their hate speech, specifically to avoid calls for murder and attacks on male children. A power struggle emerged in r/PinkPillFeminism over disagreements about the reform needed for the subreddit to avoid a potential ban and some moderators were sacked in the process.
Pro-male collective identified
r/PinkPillFeminism and r/GenderCritical correctly identified the Pink Pill Watch and the Pro-Male Collective as the groups that were out to get them. Unfortunately for them it was too late. They decided to retaliate by setting up r/BanFemaleHateSubs to target the PPW and the PMC along with porn subs that they deemed misogynistic. The sub very quickly gained over a thousand subscribers because women as a gender don't suffer from male apathy. The new subreddit was however inefficient and pointless as its members couldn't find any dirt on the PMC and chose to concentrate on whining about allegedly misogynistic porn subreddits instead. In an act of desperation a pinkpiller joined the PPW Discord pretending to want to help us and reported on the server's internal affairs in a dossier published on Google Docs and later forwarded to the Reddit administration in hope of getting the PPW in trouble. The dossier was absolutely innocuous as the PPW abides by all Reddit rules including when monitoring their hate speech.
BlackpillFeminism ban evasions banned
In the next days evasion subreddits set up by r/BlackPillFeminism exiles like r/XXFront were cleansed by Reddit.
Mass ban of radfem subreddits
The radfem armageddon finally arrived. Reddit had planned a massive cleansing operation specifically targeted at alt-right-adjacent subreddits for a long time. On 29 June 2020 over 2,000 subreddits were cleansed from the platform. Among them r/BanFemaleHateSubs and r/BlatantMisogyny, hate subs that were harassing the Pro-Male Collective. More importantly, r/GenderCritical, a subreddit encouraging the abortion of male fetuses for the sole reason of their sex that was with over 65,000 members the most active radical feminist forum in the world was banned. r/TheFairerSex was finally given its quietus. r/PinkPillFeminism and r/TrollGC went private, closing off to the public and to the vast majority of their own members.
Where to find us
You can join the Pink Pill Watch Discord here.
See also
This article based on an article Pink Pill Watch (13 August 2020) from the free Encyklopedia PromaleWiki. The PromaleWiki article is published under an unknown license. In PromaleWiki is a List of Authors available those who worked on the text before being incorporated in WikiMANNia.