For the first time in 80 years, German tanks will roll against Russia.

Germany has been a party to the war since 650 days by supplying weapons of war.

German Foreign Minster Annalena Baerbock: "We are fighting a war against Russia" (January 25, 2023)
The Red Pill (film)
Jump to navigation
Jump to search
Film data
Original title
The Red Pill
Country
USA
Language
English
Release date
October 7, 2016
Running time
117 min.
Budget
211.260 USD
Crew
Written by
Cassie Jaye
Produced by
Evan Davies
Cassie Jaye
Nena Jaye
Anna Laclergue
Music by
Douglas Edward
Distribution
Distributed by

Gravitas Ventures

[wp] (DVD)
URL
theredpillmovie.com
London, Ontario (Canada)

Premiere on 1st March 2017
The Red Pill is a 2016 documentary film by Cassie Jaye exploring the men's rights movement.
Synopsis
When a feminist filmmaker sets out to document the mysterious and polarizing world of the Men's Rights Movement, she begins to question her own beliefs. The Red Pill chronicles Cassie Jaye's journey exploring an alternate perspective on gender equality, power and privilege.[1]
Content
The Red Pill chronicles Jaye's journey beginning as a skeptical feminist investigating what she believes to be a hate movement[wp]. She goes on to discover that the movement is different from what she expected and begins to question her own views on gender, power, and privilege. The film discusses numerous issues facing men and boys such as male suicide rates[wp], workplace fatalities[wp] and high-risk jobs, false allegations of rape, military conscription[wp], lack of services for male victims of domestic violence[wp] and rape[wp], higher rates of violent victimization, issues concerning divorce and child custody, disparity in criminal sentencing, disproportionate funding and research on men's health issues, educational inequality[wp], and men's lack of reproductive rights[wp].[2][3][4][5] It includes numerous interviews with men's rights activists and those supportive of the movement, most notably Paul Elam,[3] founder of A Voice for Men; Harry Crouch,[3] president of the National Coalition for Men; Warren Farrell,[3] author of The Myth of Male Power[wp]; and Erin Pizzey,[3] who started the first domestic violence shelter in the modern world. It also includes interviews with feminists critical of the movement, such as Ms. magazine executive editor Katherine Spillar[wp],[6] and sociologist Michael Kimmel.[4] It also contains excerpts from Jaye's video diary.[7]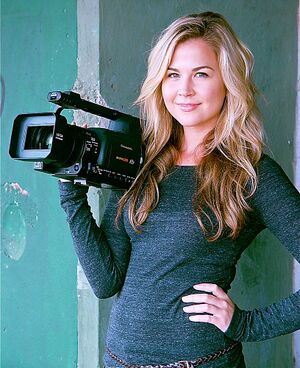 Raw files
Reviews
References
See also
External links